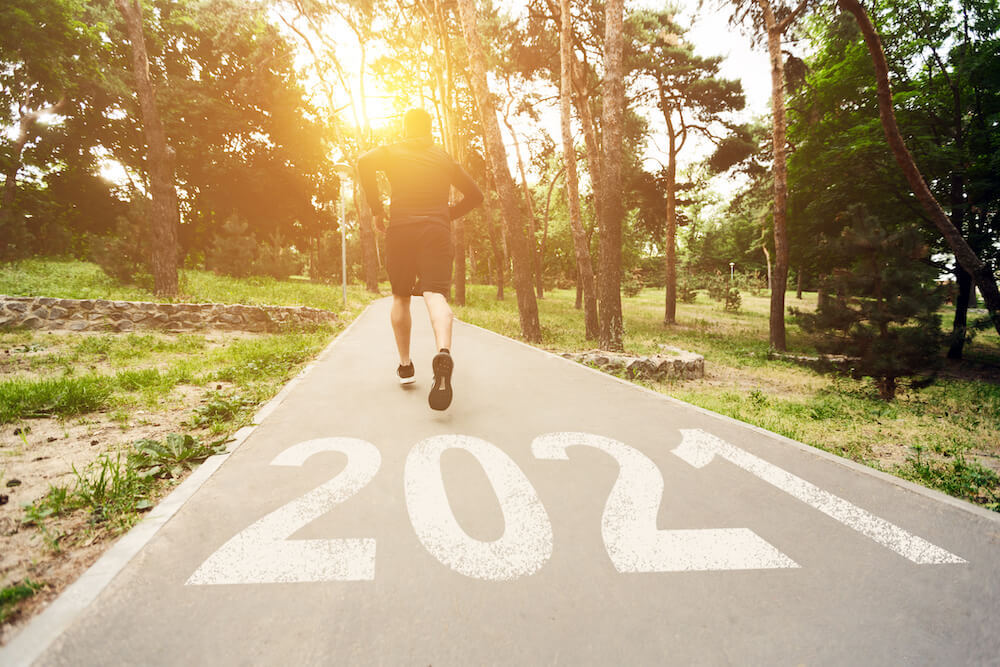 2021 is the fresh start we've been waiting for; it's a new year full of hope and possibility. Want to really make it a year to remember? Here are some fun, easy ways to do just that, right here in Kitsap County.
Enjoy the View
We all get caught up in routines and sometimes that means we take things for granted, like this beautiful place we call home. Bundle up and take a walk on a trail you haven't been on in months (or ever). Really enjoy the sights and sounds around you.
"I love feeling like a tourist in my own town," says Cherie Kesti, Branch Manager/Mortgage Consultant for Penrith Home Loans. Kesti enjoys walking along Poulsbo's marina and through the park. Another great spot in North Kitsap is Point No Point Park and Lighthouse in Hansville. Broker Bonnie Chandler highly recommends it saying, "It's a favorite beach walk of mine." Chandler also notes that the lighthouse there is the oldest on Puget Sound. For a more expansive place to take it all in, head to Port Gamble Forest Heritage Park. "I always feel refreshed and renewed after visiting the Port Gamble Forest Heritage Park," says Broker Valerie Gallagher. "This spacious park is a gift to the community with nearly 3,500 acres & 60 miles of trails!"
While you're taking it all in, try to remember what it felt like to experience this place for the first time. Or, if you grew up here, remember the joy of sharing this place with a visitor. Focusing on those positive feelings can go a long way, boosting your mood and helping you refuel.
Actually Unplug
If your daily life involves a lot of screen time, take a day to fully unplug. Turn off your laptop, your TV, and yes, even your phone. It can be hard to do but so worth it. See what it feels like to spend time with those you love without any devices. Play a board game, write those holiday thank you notes, work on a home improvement project you've been meaning to finish. Whatever you decide to do, you may be surprised how often you instinctively reach for your phone throughout the day. Taking a break can help you step back and see where you really are on the usage spectrum. You may decide you want to limit your screen time as a new year's resolution. If nothing else, a day off from electronics will help you appreciate them more.
Share Your Love of Books
Whether you're an avid reader or have fond memories reading childhood favorites, make this a year to remember by sharing your love of books. Dust off some old stories that others could benefit from and donate them to your nearest Little Free Library. If there isn't one near you, start your own! It's a fun project, especially if you have kids. They can help you design it, decorate it, and fill it with all kinds of books for the neighborhood to enjoy.
Starting or adding to a Little Free Library also calls for a visit to your local bookstore. After all, you'll have to pick up something new to read to fill those empty spots on your bookshelf. We love local bookstores like Poulsbo's Liberty Bay Books and Eagle Harbor Book Co. on Bainbridge Island. If you struggle to find the time to sit down with a good book, we suggest downloading the free app called Libby. You can borrow ebooks and audiobooks on it by connecting it to your Kitsap Regional Library card. It's easy to use and offers thousands of books for free.
Create a Gratitude Jar
Here's a simple yet meaningful activity to do with your family. Get a large jar and decorate it with the word "gratitude" on it or purchase a gratitude jar like this one. Throughout the year, you and your family members can add notes to it: things you're thankful for and moments you enjoyed. At the end of 2021, sit down together and go through all of these little notes. It's a great way to reminisce and regularly practice gratitude throughout the year. To get in the habit, pick a day each week to do it as a family, like on Sundays after dinner. That way, it becomes part of your routine. Additionally, be sure to put it in a prominent place with pens and blank notecards so anyone can quickly jot something down and add it to the jar. The easier you make it, the more little notes you'll have at the end of the year to enjoy.
Here's to a wonderful new year ahead!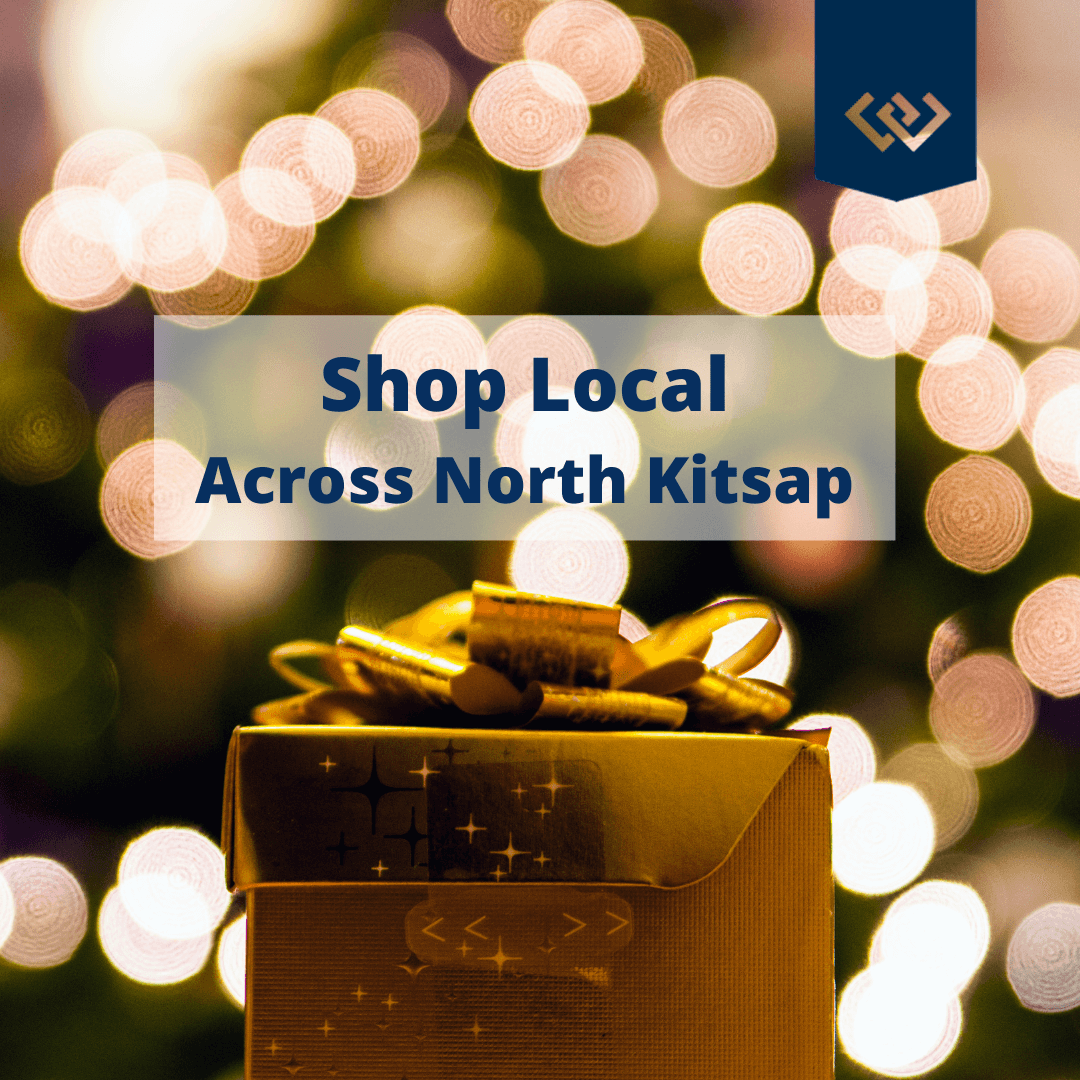 What better way to support our wonderful local businesses than to "shop local" this holiday season? There are so many unique, thoughtful holiday gifts you can buy right here. While it's challenging to put together a complete list of all of the wonderful options across North Kitsap, we've created a collection that provides a range of ideas, many of which were recommended by locals and even some of our agents and staff.
Artistic Gifts
Arists' Edge in Poulsbo: For over 28 years, this local business has specialized in custom framing, art products, and supplies. They also offer gift cards, military, student, and business discounts, and they have products available through their online store.

Fern Street Pottery: Local artist Meredith Chernick thoughtfully crafts gorgeous yet functional items like handmade, customizable mugs, serving bowls, and hanging planter pots. You can order online and she'll ship your gifts for you or you can choose free pickup at checkout.
Mak. W Designs:  This artist collective in Kingston supports the work of 23 different artists and features stunning jewelry. Their online ordering makes it easy to buy for the holidays.
Verksted Gallery: Support local artists by visiting one of the oldest cooperative art galleries in Washington state. They have a range of treasures in Poulsbo and some artwork is available for purchase online.
Gifts to Make Them Grin
Clever Gift Shop: From funny socks to retro toys, this Kingston shop has a range of items that will brighten someone's holiday season. Check out their online store for more info.
The Curious Child: This Poulsbo shop has all kinds of fun gifts: kids' musical instruments and toys, puzzles for teens and adults, games and much more. You can order online and they offer free local delivery, curbside pickup, and free gift wrapping.
Liberty Bay Books: Who doesn't love a good book? This beloved local bookstore offers all kinds of literary treasures for kids and adults: bestsellers, cookbooks, poetry, picture books, graphic novels, PNW guidebooks, and much, much more. You can order online and have your books shipped or you can choose curbside pickup at checkout.

Thistle Floral and Home: While this Kingston-based shop is known for its beautiful floral arrangements, it also has a range of gifts, often made by locals. Their gifts are sure to make the recipient smile, like this new year gift that comes with a "Kiss 2020 Goodbye" lip balm, a funny pin, and a smudge stick.
Presents for Pampering
Away with Words: This sister-owned bath and bookshop in Poulsbo has a range of gifts. Many rave about their bath bombs and they also have creative self-care gift boxes, some of which include their popular bath bombs with fun book pairings while others feature loose leaf tea and/or locally made goat's milk soap.
Northwest Sparks: These eco-friendly 100% soy candles are hand-poured in Washington by an environmental biologist and you can get little stocking stuffers , PNW-themed candles, and more.
Willow and Daisies Apothecary: From bath salts to shower steamers, these handcrafted bath products are sure to delight. This store is located in Suquamish and has an online Etsy shop.
The Gift of a Great Meal
Have a family member or friend with a favorite local restaurant? Consider treating them to a nice meal or giving them a gift card. Many restaurants have wonderful takeout menus with options for curbside pickup. Windermere Realtor Elaine Tanner highly recommends Kachai Thai Kitchen in Poulsbo. Tizley's EuroPub is another local favorite. "The food on the menu is a delicious array of European traditional family dishes that enhance the experience of visiting Poulsbo!" says Penrith Home Loans' Branch Manager, Cherie Kesti. Also in Poulsbo, Vietnamese restaurant Phó T & N has practically doubled in size. "It speaks to how popular it is," says Realtor Bill Touchette, who highly recommends them. Punjab Indian Cuisine is another local favorite and recommended by Audrey Newell. "It's owned by a local family and they make terrific South Indian food," says Newell.
Other local favorites include the delightful Butcher & Baker Provisions in Port Gamble, which was voted Best Dessert in this year's Best of North Kitsap contest. Kingston's Mossback is another local gem. Our Director of Digital Marketing, Kara Wyman, says Mossback is "the ultimate farm-to-table experience." They don't offer takeout but they do offer gift cards.
We hope you have a healthy, joyful holiday season!