We're excited to feature Will Storch, a newer agent who recently joined Windermere Poulsbo. As a lifelong local, Will is passionate about community and serving clients' individual needs. He works with buyers and sellers on Bainbridge Island and across Kitsap County. Will brings a range of skills and experiences to the table, allowing him to connect with a variety of people, sharing real estate expertise and insider tips. Read on to find out more.
What drew you to real estate?
Community drew me to real estate. Growing up on Bainbridge Island, I know and understand the importance of surrounding oneself with an amazing community. I have used this motto in every community I have lived in and it really helps create a feeling of security, fun, and being able to give back to the community. I also love interacting with people and being able to provide something for them.
What unique professional experiences enhance your abilities as a realtor?
My background in retail and design enhances my abilities as a Realtor. I have a long history in the restaurant industry, which requires a lot of listening, multi-tasking, and delivering the highest quality product. I am also a trained interior designer and home stager. Being able to help a client stage their home to create the best environment helps them get top dollar. Also, being able to help a client look at a home and give ideas on how to make it their own home gives me an advantage.
What personality traits do you think are important in this profession?
Being a good listener and being able to communicate. Every client is different and it is so important to know what is important to each individual person, being a leader or mentor when needed. As an expert in the field, my opinion is based on experience and knowledge, and I am here to guide each client through the buying or selling process.
Which areas do you serve and what do you love about them?
I am based in Kitsap County with a primary focus on Bainbridge Island, where I currently live and was raised. I have also lived in Seattle for a number of years and consider myself knowledgeable about the different areas of Seattle and understand the market conditions in King County. All the areas surrounding Seattle and Kitsap County offer amazing opportunities from outdoor activities to cultural opportunities, and great restaurants and schools. I personally love living on Bainbridge Island with access to great beaches, parks, trails, and restaurants.
Note: Check out Will's new website where he shares a wealth of information about our local communities.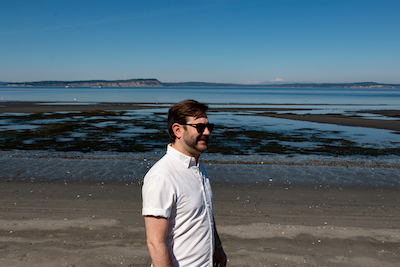 How long have you lived here?
I grew up on Bainbridge Island, graduated high school at BHS, go Spartans! I returned to live here about 8 years ago. After receiving a bachelor's degree in political science from Western Washington University, I decided to pursue careers in Portland, Oregon. I worked for one of the fastest-growing coffee roasters in the country. Then I decided to move to Seattle and open and manage two cafes and a roastery. This was a challenge coming into a new market. But after a short time, we established ourselves in the community. I was able to become a part of the bustling city life. After 6 years and studying interior design, I made the move back to Bainbridge Island and began working as a bartender, creating many relationships. I also built a strong home staging business.
How are you involved in the community?
I support our local schools, including the Island School, where I attended kindergarten through third grade. This school established my identity and gave me tools at a young age that I continue to use. I also formed relationships with friends that are still just as strong today. Our amazing parks department is something else I commit time to regularly. I would like to pursue more of a role in Human Rights, Race Relations, and the LGBTQ+ sector on the Island, and I hope to see these issues become more widely discussed and addressed on Bainbridge Island and across Kitsap County.
What made you decide to work with Windermere?
I have always been fascinated with Windermere's branding and advertising. When I was younger, I used to pick up the copy of
Windermere Living
on the ferries and flip through and see the houses listed. Windermere always possesses a fierce focus on locality with a global network. After many years of home staging and getting to know agents at different firms, everyone at Windermere seemed to be happy, driven, and successful. Windermere also keeps the focus on each individual client.
Is there anything else you'd like to share with us?
I am excited to continue to grow and expand my reach in each community that I serve. The beauty that surrounds us in the Pacific Northwest clearly speaks to many people. I believe the diversity of each area provides something for everyone.
We are thrilled to have Will Storch as a member of our Windermere family. He's an excellent choice for buyers and sellers and you can connect with him on Facebook and Instagram, or visit his website.