While the majority of the big fireworks shows and traditional large gatherings have been canceled or changed, there are still a lot of festive ways to celebrate the 4th of July. Kingston is set to have their fireworks show – but plan to arrive early. They are the only big one we know of that's happening this year. Since Independence Day is on a Sunday, that means a long weekend for most. Here's a round-up of fun, local activities to enjoy.
Friday, July 2nd
Kick off your holiday weekend enjoying local art walks. These happen regularly, but since they'll be at the start of a holiday weekend, they're sure to be extra fun.
Bainbridge's Art Walk
First Friday Art Walk in Downtown Winslow begins at 4:00 PM on Friday, July 2nd. Enjoy art, film, small bites, and music at numerous downtown locations. Stop by the Windermere Bainbridge office on your route to see featured artists Dinah Satterwhite Photography & Rob Satterwhite Metalworks, enjoy Pan d'Amore snacks, live jazz music, and chilled beverages.
Bremerton's Art Walk & Naval Ship Tour
Bremerton Arts District's First Friday Art Walk runs from 5:00 to 8:00 PM and businesses in downtown Bremerton and Manette participate. Bremerton has one of the largest and most diverse official fine arts districts in the northwest. For a patriotic twist, start your time in Bremerton with a tour of the USS Turner Joy, (last ticket sale at 4:30 PM). It's one of the many great military and veteran historical sites in our area.
Saturday, July 3rd
Poulsbo Car Cruises is hosting a 3rd of July event. Cars will be decked out in patriotic decor, and you're welcome to participate. The drive will start at the Poulsbo Village Shopping Center and head downtown and around surrounding neighborhoods. Grab a seat at one of Historic Downtown Poulsbo's outdoor dining locations for a front row seat! The cruise will start at 4:00 PM. 
Saturday, July 3rd and Sunday, July 4th
This year's air show event will be at the Tacoma Narrows Airport, and it will be drive-in only. The event runs on Saturday and Sunday with two shows a day for multiple viewing options, 10:00 AM to 12:00 PM and 2:00 PM to 4:00 PM. Tickets range from $100 – $180 per vehicle for a 20'x20' space, with discounts offered for advance online purchase.
Sunday, July 4th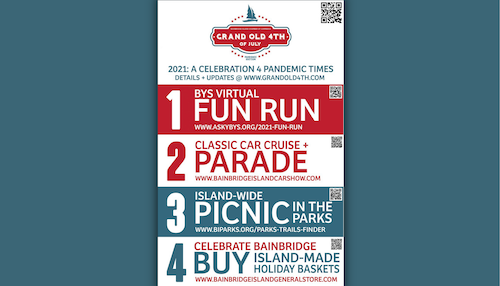 This year, the beloved Grand Old 4th celebration comes with a twist. The fun stretches across the island instead of people congregating in one place all at once. A fun run, car cruise, and picnic baskets by local businesses are just some of the ways you can enjoy celebrating island-style this year.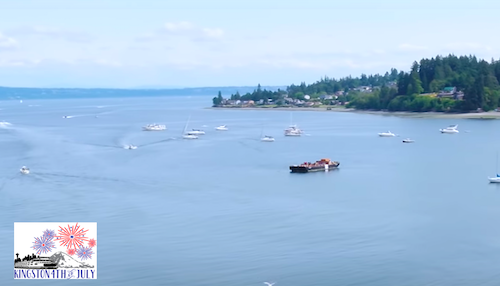 Kingston's parade is "the longest running 4th of July celebration West of the Mississippi"! With changing pandemic restrictions and last-minute planning, the Kingston 4th of July committee is pulling together quite a few activities. There will be a parade, music, and a fireworks show. The music festival happening at Mike Wallace Park in the Port of Kingston is sponsored by the Kingston Ale House and there will be a beer garden for those 21+. The Kingston 4th of July committee is working hard to create a wonderful, safe celebration. Email the committee for more information regarding volunteering, parade participation, and/or donating. Visit the event's Facebook page for the most up-to-date information. 
The Kingston Cove Yacht Club is hosting a pancake breakfast for the public. Online registration is available to KCYC members, and the public can buy tickets at the door. It's $7 for adults and $5 for children.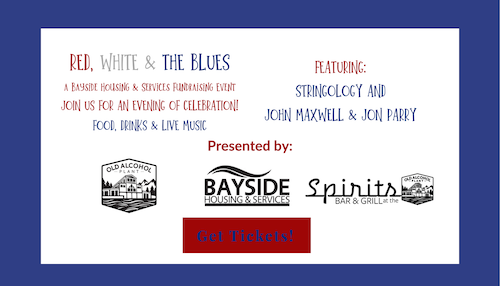 A fundraising event at the Old Alcohol Plant Hotel in Port Hadlock features two blues bands, drinks, and light fare. The event runs from 4:00 to 8:00 PM with dinner available for an additional fee. The event benefactor is Bayside Housing & Services, which provides transitional housing services in Jefferson County. Tickets start at $100 and can be purchased online. 
Kitsap Live Steamers will be offering free rides on July 4th. This miniature railroad is a great outdoor family activity located in the South Kitsap Regional Park in Port Orchard. Masks are required for anyone over the age of 2, and rides run from 10:00 AM to 4:00 PM.