Kitsap County is full of interesting places to explore, and there are some lesser-known spots that we're often excited to share with clients, friends, and family. Here are six that we highly recommend.
On the northernmost tip of the Kitsap Peninsula sits the beach town of Hansville. Although Hansville is most known for its historic lighthouse and beautiful beach at Point No Point, the immense Foulweather Bluff Preserve sits just four miles away. According to the Nature Conservancy, "The combination of forest, marsh, and 3,800 feet of beach make the Foulweather Bluff Preserve one of the most valuable wildlife havens on the Kitsap Peninsula."  Come explore this gorgeous area with plenty of space to roam!
Open year-round, during daylight hours.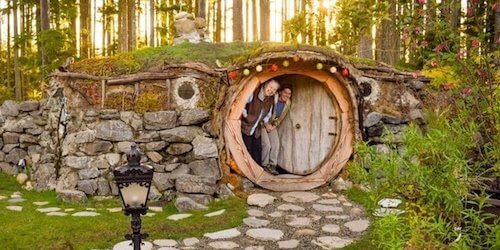 Source: The Brothers Greenhouses
The Shire awaits! Whether you're a fan of Lord of the Rings and The Hobbit or simply enjoy interesting outdoor sites, this Hobbit House makes for a fun afternoon. The Brothers Greenhouses, which offers a beautiful selection of fauna, crafted their very own "Hobbit-inspired tiny house." You can visit it during their business hours throughout the year. They encourage taking pictures and signing the guest book. Also, be sure to check out their rooftop garden display.
Here's a video of the Hobbit House!
Open: 9:00 AM – 3:00 PM, every day. However, due to COVID-19, check their site for any changes.
Re-live 1950's Americana with Kingston's authentic 50's drive-in replica!  My Girl "houses 10,000 square feet of collectibles including chainsaws, outboard motors, and antique toys". If you're a fan of 50's music, they also have quite the collection of rock and roll memorabilia.
This museum is available for private and corporate events! Contact the host and curator: Bob Thompson at: (360) 297 – 1782
Sunny days in Silverdale illuminate the circular orange glass art atop the Lisa Stirrett Glass Art Studio, beckoning glass artists and art enthusiasts from across Kitsap and beyond. Since 1987, Lisa has been a Northwest artist. Her studio welcomes visitors and is open to the public so that anyone can watch glass being created.
In addition to watching a master at her craft, you can check out an amazing display of glassworks.  Many are soon-to-be unique gifts – from home decor to landscape art, sinks to candle holders.
Open: 10:00 AM – 5:30 PM, Monday – Saturday
Note from the Studio: "We are adhering to Covid Safe Practices. ZOOM and In-Person classes available. Please CALL for Zoom Kit Shipping!"
Overlooking Poulsbo's gorgeous Liberty Bay is a craft coffeehouse worth the trip!  Poulsbohemian says it best themselves: "We have the best view in town. We have been perched here overlooking Liberty Bay in Poulsbo since 1993."
That's not all they have to boast about: famous coffee, espresso, and pastries – along with a selection of homemade soups, sandwiches, and bagels.  Try the very popular wheat-free baklava cake and enjoy a latte infused with one of their homemade syrups!
Once you're caffeinated, full, and have sufficiently enjoyed the view, your Little Norway adventure begins in the heart of historic Poulsbo!
Current Hours: 8:00 AM – 4:00 PM, every day except Tuesdays. Check on their Facebook page for any changes. 


Source: Visit Kitsap and Guillemot Cove Nature Reserve
With a drive through seaside Seabeck (and a pit stop at the historic Seabeck General Store), you'll arrive at the stunning Guillemot Cove beach, nestled under the mighty Olympic Mountain range!
You won't run out of walking trails with a sprawling 184 acres.  Be on the lookout for the many varied species of birds. This pristine place is home to hundreds of birds and other woodland creatures!
Open during daylight hours.
Know of other hidden gems that you think we should highlight? Contact us through our new Facebook page: Windermere Sound Living.