A sincere advocate with a wealth of knowledge, Managing Broker/Realtor Marisa Robba is a wonderful recent addition to our Windermere Poulsbo office. She's been helping buyers and sellers achieve their real estate goals for seven years and possesses a unique skill set and a sincere love for Kitsap County. Read our Q&A to learn more.
What drew you to real estate?
I have been involved in real estate since my early twenties, from purchasing my first condo to investing in rental properties. I am genuinely curious about the future of land and resources and the aesthetics of various properties and structures.
I have found that switching careers from teaching middle school to being a real estate agent has a lot of cross-over.
My natural tendency is to notice and convey details, set expectations, and build relationships. I listen and work hard to understand people and what they value. I have a long history of advocating for people's best interests – children, parents, staff, and now, for the past 7 years, my clients!
What unique skills do you possess that enhance your abilities as a realtor?
Anticipating clients' needs and trouble-shooting obstacles before they become problems are strengths of mine.
What personality traits do you think are important in this profession?
A calm, communicative demeanor with a whole heck of a lot of integrity can get you far in this business. Sprinkle a little grit in there too!
Which areas do you serve?
I live in Poulsbo now, after 13 years on Bainbridge Island. I will travel just about anywhere in the state if I feel I can benefit my clients. But generally, I work in Kitsap County.
How long have you lived here and what brought you here?
I've been up here for 15 years now. I came here for the Olympic Mountains, the waterways, the proximity to my folks, and the slower pace of life, and I have never looked back.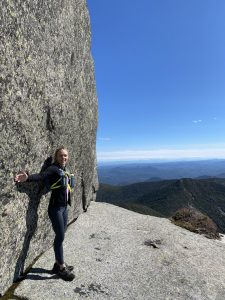 How are you involved in the community?
I am a strong believer in giving back to the community – whether through food bank donations, One Call For All gives, trail-building in many of our county parks, or through PTSA and school-related volunteering.
What made you decide to work with Windermere?
Over the past 7 years in real estate, I have had the best interactions with other Windermere agents! Their level of professionalism and dedication to their clients is second to none. Once I talked to the Designated Broker, I was 100% in.
Is there anything else you'd like to share with us?
There is a real estate agent out there for everyone. Nothing in this business is cookie-cutter. As home transactions are some of the biggest decisions one can make, be sure you have someone on your side that you are comfortable with and who will go to bat for you.