We're excited to feature BryAnn Bingham, a new agent who recently joined Windermere Poulsbo. She's dedicated, hardworking, and has excellent interpersonal skills. Her interesting background, community involvement, and passion for our area make her a great choice for buyers and sellers. Read on to find out more.
What drew you to real estate?
I have always been drawn to real estate but for most of my working life, I worked in the dance world, my first love. Working in sync with a purpose was so fulfilling and rewarding, but change is inevitable. In 2017, I went on what turned out to be a really great 4-year mini-retirement. During this time I realized that, as much as I was enjoying my life, I deeply missed connecting with others and helping them envision and achieve their dreams.
My love of architecture, design, landscape design, gardening, and connecting with people kept bringing a career in real estate to mind. Helping people with the all-important task of finding a perfect home aligns my work with purpose. I'm so excited to say that in the short time I've been part of Windermere I have made connections that are feeding my soul and I've been able to help others in at least some small ways thus far, with much more to come.
What unique professional experiences or skills do you possess that enhance your abilities as a realtor?
Having worked with hundreds of personalities, it has been wonderful to find ways to positively connect with almost anyone. Along with sharing the joys of others, there have been many challenging experiences that required calm and care, and the ability to adjust as situations revealed themselves. I feel I have a high level of emotional intelligence and can sense a person's needs at any given moment. This allows me to inspire hope, defuse tension, teach perspective and offer well-tailored support as needed. I am also great at holding a positive vision and making sure others do too! Also, it's important to me to approach all things in life with a sense of fun, and I believe my clients will appreciate this aspect of working with me.
In a practical sense, I have an artful eye and solid experience in assessing construction quality, materials, layout, and other elements that denote a desirable home. My husband and I have worked on numerous redesign and remodel projects on our own homes, and these experiences give me a great sense of the potential a less-than-ideal home might hold.
What personality traits do you think are important in this profession?
There are so many personality traits that are critical to being a great agent but I think integrity, passion, and tenacity are critical. Being client-centric, compassionate and honest would also be near the top of the list. I am confident I have these traits in my basket.
How long have you lived here and what brought you here?
I was born and raised in Utah but the ocean had always called to me. My husband and I moved to LA shortly after marrying. Four years and one baby later, we moved to Seattle and then landed on Bainbridge Island 28 years ago. We raised our family on Bainbridge and the opportunities it offered were a springboard to a life well-lived. During this time, I spent many years teaching at Bainbridge Dance Center. I also served as Associate Director and Director.
In 2017 my husband and I ventured north to amazing Hansville, where we realized our ultimate goal of living with west-facing water and Olympic Mountain views. Owning our dream view has created happiness that was beyond our imagination and being immersed in ever-changing and stunning vistas is both energizing and meditative. We absolutely love being North Kitsap locals and have discovered so many fabulous new nooks and crannies. I believe there could be no better place to live than the amazing West Puget Sound region.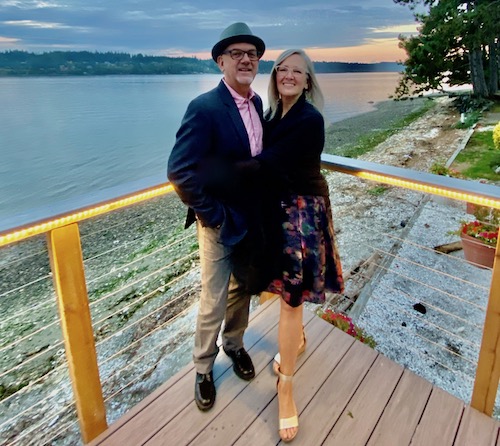 Which areas do you serve and what do you love about the area?
I want to be fully immersed in my community so I'm focused on Hansville, Kingston, Indianola, and Poulsbo. The incredible views and beaches make North Kitsap my dream come true. The array of nature and outdoor activities is unmatched elsewhere. Of course, Bainbridge is such an amazing place to live and it will always feel like home too. I still love spending time there, and I hope to get the opportunity to work with some of my favorite people that were part of my island fabric.
How are you involved in the community?
I connect with my community by teaching adult modern dance classes at the Eglon School (when Covid isn't surging) and at our beautiful sandy beach in Driftwood Key when tides and weather permit. I enjoy serving as a member of Hansville Helping Hands, for which I chaired the 2018 and 2019 Hansville Garden Tours. I'm also a proud participant of the Flotsam & Jetsam Garden Club of Hansville. I serve on the scholarship committee and the art show committee.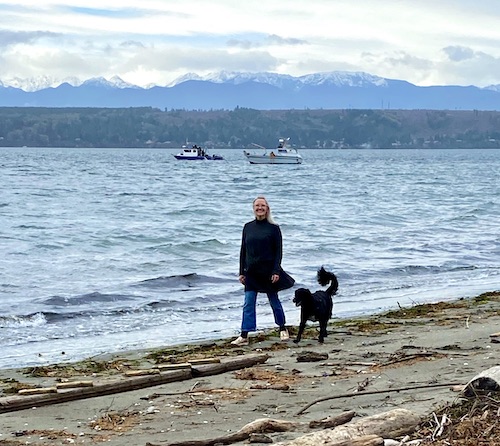 What made you decide to work with Windermere?
Windermere was, without doubt, the brokerage I had my sights set on when I envisioned working in real estate. And, when I came upon the "All In, For You" line on the Windermere website, I immediately identified with this stance. I am fiercely dedicated to the people and projects to which I commit.
I began my career with Nordstrom and their customer care ethic is part of who I am. When we moved to Seattle I quickly identified Windermere as the Nordstrom real estate equivalent. When we bought our first home on Bainbridge we had wonderful experiences with Windermere agents Carolyn Leigh and Beverly Green. They taught us so much along the way and they displayed the commitment and professionalism that I hope to convey.
More recently, through my time at Bainbridge Dance Center, I had the pleasure of knowing Tori and Carter Dotson, and their wonderful daughter. Their warmth and devotion were evident. I knew working for Windermere/West Sound, Inc. would place me in a brokerage of high ethics, mutual respect, and genuine care that would feel like family. I am so grateful to be here among all of you. Thank you for the supportive welcome.
Is there anything else you'd like to share with us?
I'm very excited to share that I have been working on an incredible land preservation opportunity for the last few months. It is now moving forward with rapid progress. Many months ago, two of my neighbors boldly approached Bob Disney about purchasing the remaining 142 acres he owns in Hansville. He indicated a willingness and at that time, Great Peninsula Conservancy, the Hansville Greenway Association, and about five neighbors were brought on board to do quiet pledge raising and organizing. This enabled us to be ready to complete the fundraising effort in short order, upon obtaining a signed agreement.
We finally received an option agreement to purchase 100 acres for $2 million dollars. Public fundraising began November 10, 2021. We had secured $1.5 million in pledges prior to going public and in the first week secured another $300k in pledges. This put us in the position to begin collecting actual donations, with only $350k left to raise! I'm hoping that by the time you read this much more has come in. I'm so thrilled to be part of creating this 'Forever Forest'. If you're interested in pledging or finding out more details, you can visit the Hansville Greenway West Campaign.